The industry is back!

Firearms and Sporting Arms, was a trade show that exhibited military and tactical gear and apparel. An event organized by Association of Firearms and Ammunition Dealers of the Philippines.
---
YKK Philippines is thrilled to have its first sub distributor in Davao City. Davao Qualitactical Trading offers military and tactical gear accessories and is the official Retailer of YKK zippers, plastic parts, hook and loop, etc.
YKK is currently tapping potential provincial markets who would need their Fastening supplies within their area to be made available at the right price.
Davao Qualitactical Trading is located at the Ground Flr. DGGG Bldg., 3-A Corner C., Bangoy J.P Rizal St., Davao City.



---
New Creation Manufacturing Co., Inc. held its annual trade show themed, Hello World! at Valkyrie, The Palace, BGC last August 15 -16, 2016.
YKK Philippines was there to support the momentous event featuring its iconic zipper Trends, with a timely second day showing of its anime Fastening Days 2.
---
VC Trading is located at the heart of Cubao, the Farmers Plaza, which offers wide selection for tailoring products and other related accessories. YKK Philippines is happy to have VC Trading as an official sub-dealer which commenced last August 20, 2016 completing the shops' products offer with zippers and plastic hardware.

VC Trading is located at the 2nd flr. Farmers Plaza, Gen. Araneta Ave. Araneta Center, Quezon City. For more information, call (02) 912 8213.
---
YKK Palit-Zipper and Lead Safe Awareness Campaign was implemented in collaboration with EcoWaste Coalition (the government watchdog for chemical substances and toxic materials) at the Melencio M. Castelo Elementary School at Brgy. Payatas A, Quezon City. Pre-collection of uniforms, bags and clothing items was done prior to the main event day. The culminating program and more repairs were held last June 11, 2016 at the said elementary school.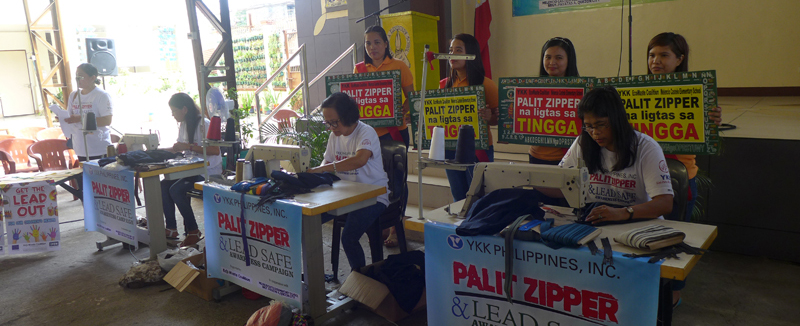 ---
Scroll
Register now
---
I'm a small Introtext for the Register Module, I can be set in the Backend of the Joomla WS-Register Module.
---
×